"
Did you hear a siren?
"

–Ambulance Chaser
An Ambulance Chaser is the fourth cog on the Lawbot corporate ladder. Their level ranges from four to eight.
Locations
Phrases
"I'm going to chase you out of town!"
"This is no laughing matter."
"It's all uphill from here."
"I'm going to enjoy this."
"I'm going to give you the business."
"Did you hear a siren?"
"I doubt you can keep up with me."
"I love the thrill of the chase!"
"Do you have insurance?"
"I hope you brought a stretcher with you."
"Looks like you won't be around much longer."
Cog moves
Cog suit promotion
Trading card
Cog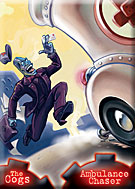 Malpractice Makes Perfect
Dislikes: Toons, Healthy People
Likes: Germs, Traffic Accidents
Trivia
The Ambulance Chaser's body is the same size as the Bloodsucker's and the Mover & Shaker's.
It is one of five cogs wearing a hat. The others are Bean Counters, skelecogs, Downsizers, and the CEO.
They are similar to Mover & Shakers and Bloodsuckers because they have the same head mesh and also have showing teeth.
They are weak to Aoogahs because they sound nothing like a siren.
On the trading card, it shows the Ambulance Chaser chasing after a speeding ambulance.
Ambulance Chasers are rarely found in the Lawbot Courthouse battle.
Name of origin
An Ambulance Chaser is a slang term for a lawyer who specializes in medical related cases, often in cases which involve suing a company or individual who may be responsible for an accident.
| Language | Name |
| --- | --- |
| French | Charognard[1] |
| Spanish | El buitre[2] |
| German | Unfallabzocker[3] |
| Brazilian Portuguese | Perseguidor de Ambulâncias |
| Japanese | ツケコミン[4][5] |
Gallery
References