"
I make every bean count.
"

–Bean Counter
Bean Counters are the fourth cog on the corporate ladder of Cashbots. Their levels range from four to eight.
Locations
Starting Battle Phrases
"I can hurt you where it counts."
"I've bean waiting for you."
"I enjoy subtracting Toons."
"I make every bean count."
"Where have you bean?"
"Bean there, done that."
"I'm going to bean you."
"You can count on me to make you pay."
"Let's step into my office."
"Your expense rate is overdue!"
Cog moves
Audit

Click to enlarge
Target:
One toon
Signature:
No
Level:
4
5
6
7
8
Damage:
4
6
9
12
15
Cog suit promotion
Cogbucks

Levels:
4
5
6
7
8
Cogbucks required:
160
210
260
310
1,300
Trading card
Cog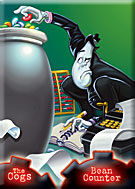 Don't Spill the Beans
Dislikes: Toons, Sloppy Arithmetic
Likes: Dollar Signs, Adding Machines
Trivia
The Bean Counter has the same head and same body as the Downsizer, only wearing a Cashbot suit instead of a Bossbot suit.

However, on the trading card, its head is in the shape of a jellybean.

The trading card shows the Bean Counter counting out jellybeans from a pot.
In reality, bean counters do not count beans, they count money. However, in Toontown, jellybeans are money.

In the United Sates, bean can sometimes be a slang term for money.

Bean Counters do the same damage on all attacks at any level.
Name of origin
A "Bean Counter" is a slang term for a statistician or an accountant.
In Other Languages
| Language | Name |
| --- | --- |
| French | Pince Menu [1] |
| Spanish | El contable[2] |
| German | Kieszähler[3] |
| Brazilian Portuguese | Conta-Moedinha [4] |
| Japanese | カッチリン[5] |
Gallery
References