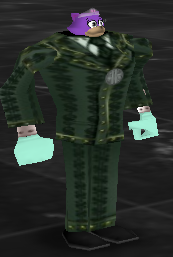 A Cashbot cog suit is the suit that Cashbots wear. Toons use a Cashbot cog suit as a disguise to get into the Cashbot Vault. Toons can earn their Cashbot cog suit by completing 12 ToonTasks in Donald's Dreamland. When they have completed their suit, they can fight the Chief Financial Officer after getting the required amount of Cogbucks. Cogbucks can be earned by fighting Cashbots. Toons need from 40-8900 Cogbucks to earn a Cashbot promotion. The minimum for the suits is Level 1 Short Change and the maximum is Level 50 Robber Baron.
See ToonTask Guide/Cog Suit Parts or ToonTask Guide/Donald's Dreamland for information about the ToonTasks.
Gallery
Community content is available under
CC-BY-SA
unless otherwise noted.