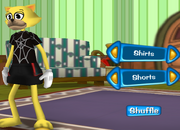 Clothes are shirts, shorts, and skirts that toons can wear. Toons are able to pick out clothes during the Pick Your Clothes phase in the Create-A-Toon. Subscribed players are able to buy clothes from Clarabelle's Cattlelog.
Shirts
Shirts can be found in the Cattlelog, through special events, from clothing stores, or codes given out by the Toon Council. Obtaining clothes from clothing stores will require a clothing ticket, which toons can get by completing a toontask given by an HQ Officer.
Themes
Themes usually depend on the series of Cattlelog. During holidays, members are able to buy holiday-themed clothes.
Winter Season
Summer Season
St. Patrick's Day
Spring season
Event Clothes
Event clothes can be acquired from meeting the required goal of the main event. As such, if a toon manages to win, they will earn a special type of clothing or other exclusive items given out to the winners.
Most Holes in One T-Shirt (May 13 - 16)
Most Fish Caught (April 27 - 30)
Operation: Storm Sellbot (August 25 - September 21, 2010)
Most Grand Prix tournaments completed (May 27 - 30)
Most Cogs Defeated (June 24 - 27)
Shorts and Skirts
Along with shirts, shorts and skirts can be purchased from the Cattlelog. Skirts can only be purchased and worn by female toons while shorts with belts can only be purchased by male toons.
Themes
Like shirts, there are holiday-themed shorts and skirts, and themes depending on the Cattlelog series.
Codes
Some shirts, shorts, or skirts can only be obtained by entering a special code in the Shticker Book.
This list shows all the codes that were released but are right now expired:
Silly Meter (Expired)
Get Connected (Expired)
GC SBFO (Expired)
Summer (Expired)
Spooky (Expired)
Brrrgh (Expired)
Free Shirt (Test only, expired)
Gallery