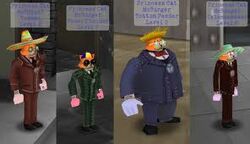 A
Cog Suit
(called
Cog Disguise
in the
Shticker Book
) is a disguise that
Toons
use to make themselves look like a
cog
. It is only used when you infiltrate
Cog HQs
, and you have to earn it. Different cog suit classes are earned in different ways. For instance, you earn your
Sellbot
cog suit by beating the
Factory Foreman
in
Sellbot HQ
ten times, but you earn your
Cashbot
cog suit by completing certain
tasks
in
Donald's Dreamland
. Cog suits can reach up to Level 50, and then you are maxed and can battle the boss whenever you want for extra rewards. When any of your suits are promoted to level 50 you will get a 5 point laff boost.
Cog Disguise Progress
Toons also have the ability to check their progress on their Cog Disguise in their
Shticker Book
. It would tell you how many parts you needed or collected. If a toon has successfully completed a Cog suit, then they would have to collects something called
Merits
. You need a certain amount of merits for each level, and if your Merits progress is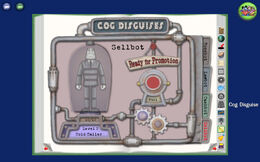 full, you will be able to battle the Cog bosses at one of the
Cog HQs
.
Operation: Storm Sellbot
Main article: Operation: Storm Sellbot
Between August 25,2010 at 12:01 AM to September 21,2010 at 11:59 PM, non-members could have a rental cog suit and have access to Sellbot Towers.
Gallery