Cogs are evil business robots. In the original download video, which is no longer shown, the Cogs were accidentally created by Scrooge McDuck when he crossed the wires of the first Cog by accident. The Cog started up the machine he was made from, and started the invasion of the Cogs.
There are four types of Cogs, Bossbots, Lawbots, Cashbots, and Sellbots, each kind of cog deals with a different type of buisness.They each have ranks just like in real life. An example is the Flunky, which is a member of the Bossbots. In general, the lowest-leveled Cogs are the ones that are the furthest down on the corporate ladder. While Cogs are robots meaning they lack gender, it is considered that all Cogs are male though some Cogs such as Name Droppers, Minglers, Number Crunchers, and Micromanagers have some feminine appearance.
The ultimate goal of the Cogs is to turn the fun-filled land of Toontown into a land of serious business. Cogs are found patrolling every street of every playground, but not Playgrounds themselves, only the streets.In a page of your shticker book you have a page that tells you how many cogs you have fighted and how many more of that cog you need to defeat.When you complete the list you get cog radar that lets you now how many cogs are on a street.
Occasionally, a Cog may walk into a store along the side of one of the street, causing a Cog building to fall onto the store. These buildings may contain one to five floors but are always chock-full of Cogs that are higher levels than the Cogs wandering around on the streets. The level depends on which Playground it is in, the Cog that took over it, and how many stories the building has. Recently, Disney announced that the cogs would be unleashing a new tactic to end toons' fun- Cog Dominium! They are supposed to be new bigger better versions of Cog buildings and full of minigames. The release date is unknown but they said it was sometime this year.
When a Toon is fighting a Cog and if the Toon(s) fails, it becomes sad and shrinks into the ground while the "wah-wah-wah" music is heard, along with the
Cogs jumping around doing the "nyah nyah nyah nyah nyah nyah" gesture.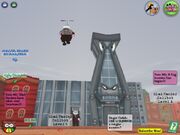 List of Cogs
Bossbots
Lawbots
Cashbots
Sellbots
Trivia


thumb|right|356px|This video shows how cogs are made.
Community content is available under
CC-BY-SA
unless otherwise noted.