Jurassic World: Dominion Dominates Fandom Wikis - The Loop
Play Sound
Daisy Gardens, sometimes abbreviated DG, is a flower-filled neighborhood located southwest of Toontown Central.
Theme
Daisy Gardens is designed to look like a well-kept garden. Its Toon Headquarters buildings look like watering cans and the buildings on the streets are named after puns for flowers and gardening.
In the playground, a toon can enter the hedge maze, which is shaped into a flower if viewed from above. At the center of the hedge maze is a giant daisy that moves up and down occasionally. The treasures are daisies that are scattered throughout the playground. Daisy Duck can be found strolling around the playground, giving gardening tips.
As with all playgrounds, excluding Chip 'n Dale's Acorn Acres and Goofy's Speedway, Daisy Gardens contains a Toon HQ, a pet shop, a clothing store, a gag shop, and a party gate.
ToonTasks
Main article: ToonTask Guide/Daisy Gardens
Once a toon has completed the ToonTasks in Donald's Dock, they can move on to Daisy Gardens. Daisy Gardens does not offer gag track training, but it introduces the first Cog Headquarters, Sellbot Headquarters.
Streets
Daisy Gardens has three streets: Elm Street that leads to Toontown Central; Maple Street that leads to Donald's Dock; and Oak Street that leads to Sellbot Headquarters.
Cogs range from level two to level six. If a field office is present, level seven Sellbots can be found patrolling the streets.
Trivia
Goofy used to be featured here, but once gardening and racing were released, Daisy rightfully claimed her spot and Goofy was moved to Goofy Speedway.
Daisy Gardens is the only playground where the street music and the building music are the same.
Daisy Gardens is the neighborhood with the shortest street: Oak Street has only seventeen shops.
The dark green fence makes Daisy Gardens look like a flower with 5 flower petals.
Daisy Gardens is the only playground where all streets have the same surname (Oak Street, Maple Street, Elm Street).

It is also the only playground where no streets have any alliteration featured in their names.

This is the first neighborhood where toons get ToonTasks to defeat building only cogs.
This is one out of the two neighborhoods (the other being Donald's Dreamland) where toons do not train for a gag track.
The streets in this neighborhood are also the names of streets in Los Angeles, California.
Trading Card
Post card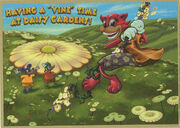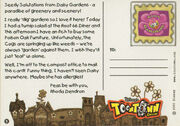 "Seedy Salutations from Daisy Gardens - a paradise of greenery and scenery!

I really 'dig' gardens so I love it here! Today I had a turnip salad at the Root 66 Diner and this afternoon I have an itch to buy some Poison Oak Furniture. Unfortunately, the Cogs are springing up like weeds - we're always 'garden' against them. I wish they'd just 'leaf' us alone.

Well, I'm off to the compost office to mail this card! Funny thing, I haven't seen Daisy anywhere. Maybe she has allergies!

Peas be with you, Rhoda Dendron"
In other languages
| Language | Name |
| --- | --- |
| French | Les Jardins de Daisy |
| Spanish | Jardin de Daisy |
| German | Daisys Gärten[1] |
| Brazilian Portuguese | Jardins da Margarida |
| Japanese | デイジーガーデン (Deijii Gaaden)[2] |
Gallery
References