The Flunky is the lowest cog on the corporate ladder of Bossbots. They range from level one to five.
Common locations
Starting battle phrases
"You're going to look good on my resume."
"I excel at Toon disposal."
"I'm sending you back to the playground!"
"I may just be a flunky - but I'm real spunky."
"I'm gonna tell the boss about you!"
"You'll never meet my boss."
"I'm going to use you to step up the corporate ladder."
"You'll have to go through me first."
"The boss is counting on me to stop you."
"You're not going to like the way I work."
Cog moves
Cog suit promotion
Trading card
Cog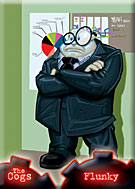 I'm Telling the Boss
Dislikes: Toons, Minor Infractions
Likes: Following Orders, Holding the Corporate Ladder
Trivia
In the Toontorial, toons must defeat a Flunky right outside Tutorial Tom's building, making it the first cog that toons defeat, assuming they don't skip the Toontorial.
Flunky promotions are the same as Glad Hander, Tightwad, and Bloodsucker promotions.
He is also seen in the C.E.O. battle. At the end of the battle, the C.E.O. gets demoted to one.
Flunkies are the only cogs that wear glasses.
Flunkies are the only cog in the Maze Game.
Flunkies do not have eyes behind their glasses.
The Flunky's gag weak spot is a $1 Bill because "they really want that raise."
Flunkies wear brown suits, but on the trading card, they wear black suits.
On the trading card, it shows a Flunky standing in front of flow charts.
The Flunky's glasses appear on Flippy's Whole Cream Pie in Toon Hall.
A contest winning backpack accessory is portrayed by a Flunky called the Cog Pack.
The Flunky is one of the only cogs who say a different phrase than the other cogs, when they fly away or enter a building. They would say, "I'm late for a meeting."
Flunkies are the weakest cogs in Toontown as their highest attack only does 7 points of damage.
Flunkies share their head mesh with Corporate Raiders.
Name of origin
A Flunky is an assistant who does menial work; in other terms, a lackey.[1]
In other languages
|Japanese = オべッかー[2]}} 
Gallery
References