"
Put it there, Toon.
"

–Glad Hander
A Glad Hander is the fourth cog on the corporate ladder of Sellbots. Their levels range from four to eight.
Mega Invasion
On June 26, 2013, Glad Handers have called on a truce to the toons and finally make peace.[1] However, it was just a ploy to take the toons by surprise.
On June 27, Glad Handers have invaded Toontown, with a Legal Eagle making a deal with the Glad Handers.[2]
Locations
Starting battle phrases
"You'll find I'm a handful."
"I'm a very hands-on kinda guy."
"Offhandedly, I'd say you're in trouble."
"Let's get right to the business at hand."
"I think the handwriting is on the wall."
"I can be quite handy."
"Would you like some hand-me-downs?"
"Let me show you some of my handiwork."
"Let's seal the deal."
"Let's shake on it."
"Put it there, Toon."
"You'll notice I have a very firm grip."
"I'm going to enjoy this."
"This is going to be fun."
"I'm glad you came!"
Cog moves
Cog suit promotion
Merits

Levels:
4
5
6
7
8
Merits required:
100
130
160
190
800
Trading card
Cog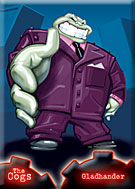 Let's Seal the Deal
Dislikes: Joy Buzzers, Toons
Likes: Sweaty Palms, Overpumping
Trivia
Glad Handers have very large hands in the cogs wallpaper of Toontown. Their large hands seem to be exaggerated.

Glad Handers also have very large hands on the trading card, where they are shown offering a handshake.

Glad Handers can sometimes be found in Toontown Central in extremely rare occasions, such as if a field office is nearby.
Glad Handers can be encountered in the Tug of War game.
Because Schmooze does 20 damage at level 8, it is considered the strongest level 8 cog move.
Their Fountain Pen and Rubber Stamp attacks downgrades in damage as its levels increase. This is the only cog where this happens.
Their weak spot is Whole Fruit Pies, because they make their shifty handshakes sticky!
Its face is very similar to the Yesman and Mr. Hollywood.
The trading card misspells his name by making it one word instead of two (Gladhander).
Name of origin
A Glad Hander is a slang term used for someone who is excessively friendly, sometimes even feigning friendliness.[3]
In other languages
| Language | Name |
| --- | --- |
| French | Passetout |
| Spanish | El simpático[4] |
| German | Glückshändchen[5] |
| Brazilian Portuguese | Amigo-da-Onça [6] |
| Japanese | オオゲーサ[7] |
Gallery
References