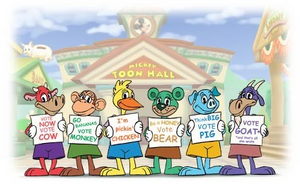 Goat was an unreleased toon species. It did not win any of the toon elections.
Trivia
In the toon election, the motto for the goat was "Vote for goat! That's all she wrote," and was a Speedchat phrase for toons to purchase.
The bleating of a goat could be heard in Chip 'n Dale's MiniGolf when players successfully hit the golf ball into the hole or barely missed it. [Citation Needed »]
A cast member list shows that Lani Minella is the voice actor for the goat.[1]
In the toon election, there was also an alternative motto for Goat on the Toontown Times website, it was "Don't be silly - vote for the billy!"
References
Gallery
Community content is available under
CC-BY-SA
unless otherwise noted.