Halloween is a holiday toons celebrate every October 31st (and earlier in the month). Playgrounds and streets will be decorated with pumpkins and lanterns. The trees will lose their leaves, resembling a wilted tree. The sky will be dark for every other hour all through Toontown.
Halloween-themed items become available, such as Vampire and Super Toon costumes, as well as speedchat phrases.
Three major events happen during Halloween: Bloodsucker mega cog invasions, Trick-or-Treating, and Black Cat Day.
Mega invasion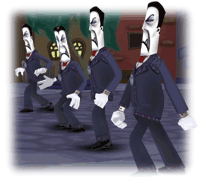 Every late-October, a mega invasion of Bloodsuckers occurs in every district, excluding safe districts.
Trick-or-Treating
Shops all around Toontown will host as the trick-or-treating buildings, in which visiting the participating toon will give out 100 jellybeans to toons who say "Trick or Treat!" The phrase can be bought from Clarabelle's Cattlelog and will immediately become available once purchased.
As a reward for trick-or-treating in all the participating shops, the toon is given a temporary pumpkin head.
Black cat
On Halloween, every cat created and entered the Toontorial will have the opportunity to have their color changed to black permanently by saying "Toontastic!"
Clarabelle's Cattlelog
Clarabelle's Cattlelog updates to include Halloween-based items. Costumes and speedchat phrases become available during the month of October.
NPC playground owners
During Halloween, non-playable playground owners dress in costumes and roam the playground greeting toons.
Gallery