"
Don't lose your head over me.
"

–Head Hunter
Head Hunters are the sixth cogs on the Bossbot corporate ladder. Their levels range from six to ten.
Locations
Starting Battle Phrases
"You are going to have such a headache."
"Heads up!"
"I'll have your head for this."
"You'll wish this was all in your head."
"A perfect trophy for my collection."
"I'm way ahead of you."
"You're headed for big trouble."
"Oh good, I've been hunting for you!"
"Looks like you've got a head for trouble."
"Headed my way?"
"Don't lose your head over me."
Cog moves
Cog suit promotion
Trading card
Cog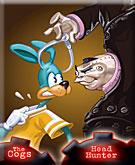 Don't Lose Your Head
Dislikes: Toons, Stiff Necks
Likes: Guillotines
Trivia
The Head Hunters can also be level 10 V2.0 cogs in Bossbot Cog golf courses.
One of the Head Hunter's attacks is similar to a reward you get after a ToonTask, which is a small head.
The size of a Head Hunter's head is about the size of a Cupcake.
Head Hunter's Weakness is the Grand Piano, because it's over their "Head"!
On the trading card, the Head Hunter seems to be measuring a Toon's head.
One of the phrases a Head Hunter uses when he uses his signature move "Head Shrink" is "I shrink, therefore I am" which is a play on words of a Socrates quote: "I think, therefore I am."

Another one of them is "Honey, I shrunk the Toon," which is a play on words of the Disney live-action movie, Honey, I Shrunk the Kids. The only other cog to use this quote is the Downsizer. Coincidentally, they are both Bossbots.
Name of origin
In business terms, a Head Hunter is someone who is looking to give jobs.
In other languages
| Language | Name |
| --- | --- |
| French | Chassetête |
| Spanish | Cazatalentos[1] |
| German | Köpfchenjäger[2] |
| Brazilian Portuguese | Caça-Talentos |
| Japanese | ヘッドハンター[3][4] |
Gallery
References
Community content is available under
CC-BY-SA
unless otherwise noted.