"
No job is too small for me.
"

–Micromanager
The Micromanager is the fourth cog on the Bossbot corporate ladder. Its level ranges from four to eight.
Locations
Starting Phrases
"We're going to do this my way."
"Well, you've managed to find me."
"I can be very intimidating."
"I'll take care of you in no time."
"Oh good, a project."
"I may be small, but I'm also tough."
"I'm going to get in your business!"
"No job is too small for me."
"I want the job done right, so I'll do it myself."
"I'm going to get into your business."
"I'm going to be breathing down your neck."
"Sometimes big hurts come in small packages."
"You need someone to manage your assets."
"Sometimes big problems can lead to little misunderstandings."
"It looks like you need some managing."
Cog moves
Cog suit promotion
Trading card
Cog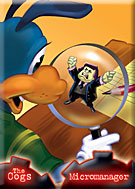 It's All My Business
Dislikes: Toons, Opinions
Likes: Total Control, Taking Over
Trivia
Micromanagers are the shortest cogs. They're slightly shorter than the Short Change.
In one of the Toontown trailers, a Micromanager was wearing a Sellbot suit.
One of their starting phases is much like the Chief Executive Officer: "I want the job done right, so I'll do it myself."
Micromanager promotions are the same as The Mingler, Money Bags and Back Stabber promotions.
If timed correctly, Toons can jump over a Micromanager from the front.
They are the same size as a short fat Toon, but in the trading card, they are a lot smaller.
On the trading card is a Toon observing a Micromanager through a magnifying glass.
The Micromanager's weakness is the Anvil because it makes them smaller.
In-game, the appearance of Micromanager is feminine.

However, in the trading card, it looks masculine.
Name of origin
A Micromanager is a boss or manager who gives excessive supervision to employees.
In other languages
| Language | Name |
| --- | --- |
| French | Microchef[1] |
| Spanish | Minijefe[2] |
| German | Mikromanager[3] |
| Brazilian Portuguese | Microempresário |
| Japanese | ガミガミーナ[4][5] |
Gallery
Videos
References
Community content is available under
CC-BY-SA
unless otherwise noted.