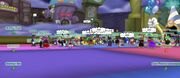 Nutty River is a district in Toontown where there's lots of Cog Invasions and at morning there is normally 400-600ish Toons, while middle of the day and at night normally 700-1300ish. It's always full because toons there are practicing for new gags, a promotion for their Cog suit, or some other need such as a Bean Fest in Donald's Dreamland. If you're lucky, you might be able to enter Nutty River. Other way to enter Nutty River is to teleport to a friend that is in Nutty River. Just make sure they are not busy. It's a popular district because advanced toons usually hang out there at Donald's Dreamland. Some toons give out a Unite phrase that restocks your
Gags
. For example toon says: "Toons of the World , Gag-up!"Or "Toons of the World,Spend Wisely!".These Phrases are earned by getting your Cashbot suit and defeating the CFO boss, which you can do tasks for at about seventy laff.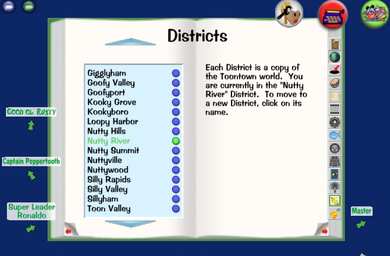 Trivia
This district is almost always full, as well as Nutty Summit which is a popular district. To get in, you need a "Taxi Toon" who you can teleport to.
Nutty River is constantly reset due to the fact that toons teleport there using their friends list, thus adding toons over the server limit. It is quiet during the time the server is reset.
Originally, it was Loonyville that was the most popular district, when something caused it to reset, everyone moved to Nutty River. Now most go there, making Loonyville one of the quietest. Loonyville does not exist anymore, following a project where Toontown wiped out many districts.
Most Invasions happen from 8 a.m. to 10 P.M. in EST.
Many toons wait past midnight at their computers to get on Nutty River, which may or may not always happen.
Toon Valley in Toontown central is more crowded in Toontown Central than in Nutty River but there, Donald's Dreamland is crowded.