Power Tie

General information
Target:
One Toon
Weakest Damage:
6
Strongest Damage:
18
Signature Move:
No
Cogs
Bossbots:
Corporate Raider
Lawbots:
None
Cashbots:
Money Bags
Sellbots:
None
v • d • e
Power Tie is a cog move. It can be performed by Corporate Raiders and Money Bags.
Animation
A cog pulls out a bow tie with red and violet colors.
Then it says a phrase.
Phrases
"I'll call later, you looked tied up."
"Are you ready to tie die?"
"Ladies and gentlemen, it's a tie!"
"You had better learn how to tie."
"I'll have you tongue-tied!"
"This is the worst tie you'll ever get!"
"Can you feel the power?"
"My powers are far too great for you!"
"I've got the power!"
"By the powers vested in me, I'll tie you up.""
Damage
Trivia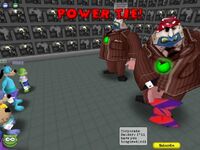 This is one of the only Cog Moves which is a powered-up version of another.
This is one of the three tie attacks and is the strongest. The others are Clip On Tie and Half Windsor.
A Power Tie is a definition used for a conservative man's tie used to convey influence or authority.
The phrase, "You can't fight the power," is also used in Power Trip.
Community content is available under
CC-BY-SA
unless otherwise noted.