Presentation is the Level 7 Lure Gag. It will lure all Cogs in battle.
As a Level 7 Gag, 10000 Lure Skill Points are required to obtain this Gag. Upon doing so, a new Skill Point Meter will appear as "500 to go!".
Animation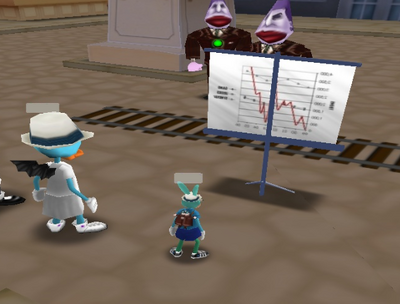 The Toon activates the switch, and a Presentation will sprout out of the ground.
If the Gag hits, the Cogs in the battle will lean backward and step forward with their arms stretched out.
If not, they will stay as normal.
The Presentation will sprout back into the ground.
Trivia
The Cogs affected by the Gag behave similarly to the Hypno Goggles.
This Gag still has a chance of missing, even if it's organic.
Like all Level 7 Gags, this Gag proves to be handy in tight situations, as 15 rounds of lure is usually more than enough to destroy the Lured Cogs.
It is a two-part Gag, meaning the damage depends on the Gag that goes with it.
This Gag is very useful in Boss battles, District Attorney's Offices, and Cog Golf Courses.
It appears that there is a graph on the presentation that represents stocks.