Rabbit is a toon species. They can be created by all players.
Rabbits squeak when talking. If a word not in the Toontown dictionary is used, the word will be "censored" by "eek," "eepy," "eepr," or "eeky." If an exclamatory phrase is used, the rabbit will squeal. If they say "Owoooo!", the rabbit will shriek.
Head designs
Rabbits have four head designs, which can be used to create a toon via Create-A-Toon.
Notable rabbits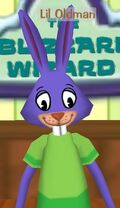 Notable non-playable rabbits, other than those who give out Toontasks, include: Lil Oldman, Clerk Clara, and Melody Wavers.
For a full list, see Category:Rabbits.
Sound
| | |
| --- | --- |
| Short | |
| Medium | |
| Long | |
| Exclamatory | |
| Question | |
| Owoooo! | |
Trivia
In other languages
| Language | Name |
| --- | --- |
| French | Lapin |
| Spanish | Conejo |
| German | Kaninchen |
| Brazilian Portuguese | Coelho |
| Japanese | ウサギ |
Gallery