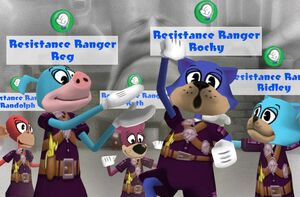 The Resistance Rangers are a group of toons as part of the Toon Resistance. They often help toons defeat cogs, or in some cases, reward toons with jellybeans after fighting back mega cog invasions.[1]
The Resistance Rangers can be identified by a green "clenched fist" icon above their nametag. They also have the title "Resistance Ranger" before their name.
Uniform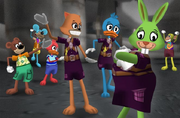 The Resistance Rangers wear the Sellbot Smasher Suit, a set of purple clothes that comes in a shirt and shorts.
The suit was given to "mentor" toons who assisted others in rental cog suits in the Vice President battle during Operation: Storm Sellbot: toons who completed ten battles with rental cog suits were rewarded with the shorts, while ten more battles after receiving the shorts were rewarded with the shirt.[2]
Appearances
The Resistance Rangers first appeared during Operation: Storm Sellbot of August 2010. They assisted toons in fighting Sellbots and the Vice President. During the event, the Resistance Rangers also rewarded toons with the uniform.[3]
The Resistance Rangers appeared again in January 2011, helping toons with their ToonTasks in the Toontask Derby Contest. The top ten toons who completed the most Toontasks each day during the contest received an exclusive Derby shirt.[4]
After the events of the mega cog invasions of Glad Handers and Legal Eagles in late-June 2013, Resistance Rangers Randolph, Raven, Rhett, and Rupert gave free jellybeans in toon parties on July 20th and 21st.[1] Starting from August 2, 2013, the Resistance Rangers gave out a free T-shirt as the second summer surprise. The Sunburst Shirt can be redeemed by entering a code in the "Codes" section of the Shticker Book.[5]
Members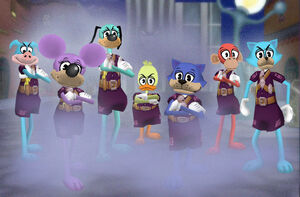 | Name | Species | Color | Gender |
| --- | --- | --- | --- |
| Ralph | Bear | Maroon | Male |
| Randolph | Monkey | Red | Male |
| Randy | Duck | Citrine | Male |
| Raven | | | |
| Reg | Pig | Aqua | Male |
| Rhett | | | |
| Ridley | Cat | Aqua | Male |
| Ripley | Pig | Pink | Female |
| Rocky | Cat | Royal Blue | Male |
| Roy | Cat | Bright Red | Male |
| Rupert | Horse | Red | Male |
| Ruth | Bear | Maroon | Female |
There are also several unnamed members:
Trivia
Similarly to the Toon Troopers, the names of every Resistance Rangers begin with the letter R.
During events they talk to toons giving them hints about the event they are in.
In the official website, the Resistance Rangers are often depicted as "safety" when announcing players to play safe and keep personal information private.[6]
Gallery
References
↑ 1.0 1.1 "Resistance Rangers Salute Toons Sweetly" blog post. Toontown.com.
↑ "Mentor Toon Reward Revealed!" blog post. Toontown.com.
↑ "Meet the Resistance Rangers" blog post. Toontown.com.
↑ "Resistance Rangers Do the Derby" blog post. Toontown.com.
↑ "the Rangers share a second sweet summer surprise – a gift ALL Toons can enjoy: the all-new (and very sunny) Sunburst shirt!" "Summer Sunburst from Resistance Rangers" blog post. Toontown.com.
↑ "Important Toon Safety Reminder" blog post. Toontown.com.
See also
Community content is available under
CC-BY-SA
unless otherwise noted.