"
You're in a tight spot.
"

–Tightwad
Tightwads are the third cog on the corporate ladder of Cashbots. Their levels range from three to seven.
Locations
Starting Phrases
"That's Mr. Tightwad to you."
"I'm going to make a big dent in your budget."
"You'll find I'm very tightfisted."
"I'm going to cut off your funding."
"I hope you can afford this."
"Things are about to get very tight."
"Is this the best deal you can offer?"
"Let's get going - time is money."
"You're in a tight spot."
Cog moves
Cog suit promotion
Cogbucks

Levels:
3
4
5
6
7
Cogbucks required:
100
130
160
190
800
Trading card
Cog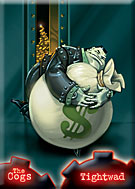 A Penny Saved is Mine
Dislikes: Toons, Spending Money
Likes: Frozen Assets, Locked Vaults
Trivia
This is the only fat cog to be ranked third on the corporate ladder.
Tightwads are yet the weakest ranked Cashbot roaming Cashbot HQ, but they have the strongest attacks in their area.
Along with the Double Talker, the Tightwad has the strongest level 7 cog move, taking away 18 laff points.
The Tightwad's weakness is the Sandbag, because they look like bags of money.
In the trading card, a Tightwad has black hair, when in the game, it has green hair.
On the front of the trading card, the Tightwad is holding a fat bag of money in a tight grip.
Name of origin
A Tightwad is a person who doesn't like to spend or lend money.
| Language | Name |
| --- | --- |
| French | Grippesou[1] |
| Spanish | El miserable[2] |
| German | Geizhals[3] |
| Brazilian Portuguese | Pão-duro |
| Japanese | ドケッチオ[4][5] |
Gallery
References