Not to be confused with the building on Loopy Lane, News for the Amused.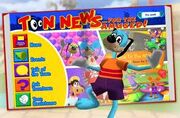 Toon News...for The Amused! is a newspaper on Toontown itself that came out on January 9, 2010 [1]. It can be accessed by going to the last page of the Shticker Book or by clicking the typewriter on the top-right of the screen if there is a new issue. It is considered a spiritual successor to The Toontown Times and the Toontown Newsletters.
Sections
News

The "News" section identifies any current events occurring in Toontown.
Events
Current events, and sometimes Super Toons.
Talk of the Town
Anything about Toontown, written by NPC toons. Some examples are "Taking You to Task with Lil Oldman" or "Polly Golightly's House of Toon Style."
Ask Toontown
Answers to questions people ask about Toontown. These questions can be asked from the Contact Us section of the Toontown website.
Toon Resistance
Facts about cogs, and their plans to take over Toontown. This section is written by Lord Lowden Clear.
Trivia
After opening the new issue, the Toon News... for the Amused! icon will disappear and will be moved to the Shticker Book.
Since its first issue, the Toon News...for the Amused! has gotten much smaller.
In Toontown Central there is a shop called News For the Amused. It might be the inspiration for the name of the Toon News... for the Amused!
Gallery