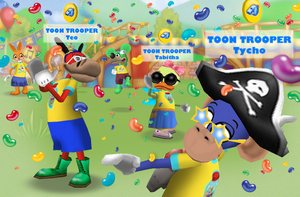 The Toon Troop, also known as the Toon Troopers, is a group of toons appointed by Flippy and the Toon Council to host public events.
Toon Troopers are identified with a whistle icon above their nametag. They also have the title "Toon Trooper" before their name.
Appearances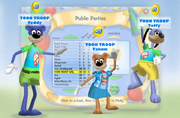 The Toon Troop first appeared in celebration of the battle against the two week mega cog invasions in June 2010.[1] They attended and hosted victory parties during the month of July.[2]
The Toon Troop reappeared in celebration of defeating the Vice President and the Sellbots during Operation: Storm Sellbot in August 2010. With the Sellbots' defeat, toons were rewarded with a free jellybean bank that holds 12,000 jellybeans. The Toon Troop held jellybean parties in October 2010 in order to fill the new banks with jellybeans.[3]
The Toon Troop returned for Jellybean Week, where Tabitha, Terry, and Tycho made an appearance to give out free jellybeans.[4] They made another appearance in celebration of the new accessories, where Tabitha, Tatum, Teo, Toby, and Tycho looked for toons wearing the "wackiest and most stylish" accessories.[5]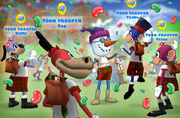 The Toon Troop occasionally appears during events and seasonal parties, such as summer and winter parties. They first hosted winter parties in celebration of the winter season. During the parties, the Toon Troop gives out free jellybeans and are often seen wearing clothes depicting the season or otherwise, clothes that are given out through codes.[6]
Members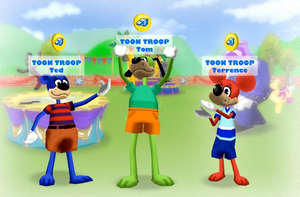 Name
Species
Color
Gender
Tabitha
Duck
Citrine
Female
Taffy
Dog
Periwinkle
Female
Tami
Duck
Aqua
Female
Tasha
Horse
Maroon
Female
Tatum
Bear
Coral
Female
Ted
Bear
Blue

*

Male
Teddy
Bear
Royal Blue
Male
Teo
Horse
Bright Red
Male
Terrence
Mouse
Bright Red
Male
Terry
Tessa
Monkey
Maroon
Female
Tiberius
Dog
Orange
Male
Tiffany
Mouse
Bright Red
Female
Tim
Mouse
Yellow
Male
Toby
Rabbit
Aqua
Male
Tom
Dog
Lime Green
Male
Tor
Pig
Bright Red
Male
Travis
Rabbit
Aqua
Male
Trent
Mouse
Brown
Male
Tycho
Monkey
Royal Blue
Male
Trivia
Similarly to the Resistance Rangers, the names of every Toon Troopers begin with the letter T.
The Toon Troopers have gag tracks that have up to level 6 gags and gag tracks that have level 7 gags that have already been used.
Gallery

References
↑ "Meet the Toon Troop" blog post. Toontown.com.
↑ "Toon Troop Parties" blog post. Toontown.com.
↑ "Toon Troop Returns!" blog post. Toontown.com.
↑ Toon Troopers Get Jellybean Week Jumpin'!" blog post. Toontown.com.
↑ "Accessory Parties with Toon Troopers!" blog post. Toontown.com.
↑ Winter Holiday is Here!" blog post. Toontown.com.
See also
Community content is available under
CC-BY-SA
unless otherwise noted.