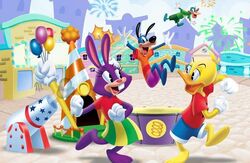 A Toon Party is a special event that can be arranged by a toon, where toons can gather up and meet new friends, and play games for jellybeans. They were first initially released on February 9, 2009 for Test[1] and March 26, 2009[2] to the public.
History
Since the release of parties, changes have been made and more activities are added in.
July 30, 2009:
The official Gags 'n Gears announced the rest of the party decorations that included a 40 Song Jukebox, Fireworks and more Cannons/Trampolines.[3]

March 2010:
Players entered in a contest and drew party items, then sent the pictures to Toontown. The winning pictures would be created as new party items. Anvils, Jellybean Banners, and Gag Domes were the three winner items and were thus implemented into the game.
June 2010:
Main article: Cog-O-War
After the massive Cog invasions, toons came up with a new idea for a party activity - Cog-O-War. The toons would throw pies at crude Pencil Pusher cogs.The team with the highest score (either orange or blue team) will win jellybeans. This also included some bug fixes. The Pencil Pushers have a dart-like target.
Planning a Party
There are 12 Party Planners scattered all around the Toontown world, with 2 Party Planners located near a "gate" at each playground. Each gate has a party hat with a clock on it that specifies the time in Toontown Time* that can be used to plan parties.
It requires a Membership and costs 100 Jellybeans for a Party Clock to plan a party. The Player can add a variety of decorations and activities including Cannons, Trampolines, Party Catch, Dance Floor and even the Cog-O-War.
The Player must also choose a time and date for when the Toon Party will start. The Player can invite friends to their Party or even make their party Private or Public.
List of Decorations
Party cannons : 50 jellybeans each
Trampolines: 50 jellybeans each
Jukebox 20 songs: 50 jellybeans (one only)
Jukebox 40 songs: 100 jellybeans (one only)
Dance floor 10 moves: 100 jellybeans (one only)
Dance Floor 20 moves: 200 jellybeans (one only)
Decorations: 10 - 25 jellybeans each
Party Clock: 100 jellybeans (required to start a party)
Party Catch: 300 jellybeans (one only)
Tug of War : 200 jellybeans (one only)
Cog-O-War: 300 jellybeans (one only)
Note: You can only have one jukebox and one dance floor (e.g. you can't have a 20 song and a 40 song jukebox at the same time).
Trivia
Ice skating and roller skating were two planned party activities where Toons could perform tricks to earn jellybeans. Rudimentary animations were created, but the two activities were scrapped in development.[4]
All of the Party Planners' names start with the letter P.
Due to the reason that the Party Clock displays the party time left, it cannot be deleted.
Toon Troopers sometimes visit parties on select dates and give out Jellybeans to the people in the party.
The Party Catch is the same as Catching Game.
The Cog-O-War cog is a Pencil Pusher with one cog suit part of each type.
There was going to be a merry-go-round for Toons to ride on, but wasn't released as data doesn't exist for it.
The Tug of War game is similar to the Trolley Game, but you must pull Toons instead of Cogs in the water.
The Cog-O-War was the final item to be released in the Toon parties.
Gallery

References
Community content is available under
CC-BY-SA
unless otherwise noted.