This is an archived page.
Please do not edit the contents of this page.
January 2012
FlyingSquirrel192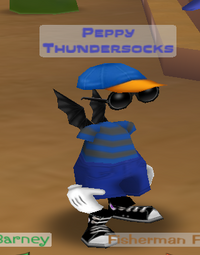 The Top Toon of January 2012 is... FlyingSquirrel192! Congratulations for becoming Top Toon of the new year!
FlyingSquirrel192 is very dedicated to this wiki. And because of his efforts, he was promoted to become the newest administrator of Toontown Wiki due to one resigning and thus causing us to lower the requirements. We hope this squirrel can do his job and not sit back and eat nuts all day like Bermuda on Saturdays! ;)
You may know FlyingSquirrel192 as the evil sorcerer of Toontown Wiki, well, maybe not. But on Toontown Online, he is known as Peppy Thundersocks. This blue mouse, invisible in the picture though, is in need of help maxing his Drop track as he's only a few from Toontanic! We know he'll make it... maybe.
Well, if you see Peppy Thundersocks on Toontown, congratulate him for winning Top Toon of the month!
February 2012
ToontasticToon212
The Top Toon of February 2012 is... ToontasticToon212! Congratulations for becoming Top Toon!
ToontasticToon212, or should I refer him to just TT212 due to his incredibly long name... is a hard working user of Toontown Wiki. He is a rollback, capable of reverting vandalism on the wiki with just one button, and a chat moderator, someone who watches users on Toontown Wiki's chatroom. Toontastic!
You may know ToontasticToon212 as Yippie CrinklePretzel on Toontown Online. If not, get to know him! Yippie is a 108 laffer with all his gags maxed out. He does not have Toon-Up, but that didn't stop him to get so far in each of his cog suits. If you see Yippie, drop by and say hi and congratulations!
TT212 is also the founder of Toontown Fanon Wiki, a wiki dedicated to fan fiction. If you want to write some of your tooniest, silliest, most wackiest stories, stop by at the fanon wiki!
Good luck TT212! Keep on editing!
March 2012
EpicnezzEmily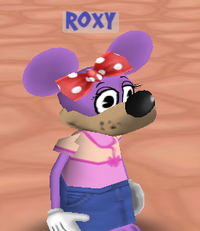 The Top Toon of March 2012 is... EpicnezzEmily! Congratulations for becoming Top Toon!
EpicnezzEmily, or we should refer her to just Emily, is a regular contributor of the iCarly Wiki. She came to Toontown Wiki on December 6, 2011. She seems dedicated to edit the wiki and help out. She has 131 edits, but we know that will go up!
Emily started playing Toontown in 2005. Her main toon, as it appears on her user page, is Roxy, a lavender mouse. Roxy has 47 laff points with Toon-Up and Lure gag tracks. If you see Emily's Roxy, stop by and say hi!
We do hope you continue editing here on Toontown Wiki. Good luck, Emily!
April 2012
Chrisgaff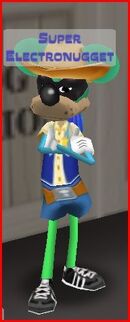 The Top Toon of April 2012 is... Chrisgaff! Congratulations for becoming Top Toon!
Chrisgaff, or Chris, has been a user since June 2011. Since then, he has made a total of 849 edits and is #24 on the leaderboard. Keep working hard Chris! You'll get on the leaderboard eventually!
Stop by Chris' user page to learn more about him, and leave him a message on his talk page, too!
Chris has many toons, but he mainly uses Super Electronugget. Super Electronugget is a sea green mouse with 104 laff points with five gag tracks maxed, only needing Drop. Awesome! Let's work on those Drop gags! If you ever see Super, help him out!
Keep up the good work Chris! Edit, edit, edit!
April Fool's
Bermuda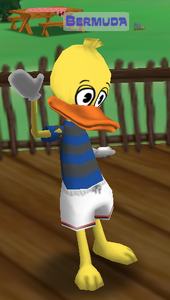 The Top Toon of April 2012 is... Bermuda! Congratulations for becoming Top Toon!
Bermuda is... well... weird in terms of... ehrmmm... well, it's unexplainable. Anyways, he is one of the administrators of Toontown Wiki. He has 17,305 edits on the wiki and is #2 on the leaderboard!
*glares at Theevina*
Get to know Bermuda by viewing his user page and leaving him a message on his talk page, too! Don't worry, he won't bite... unless you've witnessed it.... Bring garlic just for safety.
Bermuda used to play Toontown Online. Due to being busy at times, he has no time to play and decided to quit Toontown. Anyways, if you have Bermuda, or any of his other toons, as a friend, LUCKY YOU! :D Hehehe.
Anyways, Bermuda would like to pass on a message saying:
April Fool's!
The real winner is Chrisgaff, so check back later for the real entry!
May 2012
FreddieSeddieI'mReady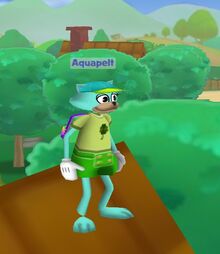 The Top Toon of May 2012 is... FreddieSeddieI'mReady! Congratulations for becoming Top Toon!
Freddie... hmm, your name is freakishly long... FSIR - Alien to what everybody refers her to - is one of the newcomers here in Toontown Wiki, joining in March 28, 2012. Since then, she has made 446 edits. Keep working hard! It's one of the reasons why I, Bermuda, nominated you! :)
FSIR has two toons: Aquapelt and Dragonfur. Aquapelt is a light blue cat with 54 laff points. Dragonfur is her newest toon, according to her user page, and has 27 laff points. If you see FSIR's toons, make sure you greet them! I'm sure she will be appreciated!
Two months and you've already have gotten the title of Top Toon. That's amazing! It took me a whole year just to be on the Top Toon. But I only manage to be on it for one day, on April Fool's Day.... If only the day lasted longer.
Well, enough about my Top Toon-less life. Congrats once again for winning Top Toon! Keep working hard, FSIR!
June 2012
Top Toon is currently on a break.
Community content is available under
CC-BY-SA
unless otherwise noted.