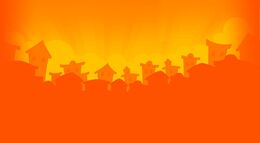 The
Toontown Test Server
or known as
Test Town
or simply
Test
was a server hosted by
Disney
for testing new content for
Disney's Toontown Online
with a small amount of players before making the content publicly available on the "open" server. Only
subscribing players
who had requested (and subsequently granted) access through the website could participate on the test server. Testers had a separate set of
Toons
through the test server than on the open server, which prevented possible data corruption between the servers.
The test server was closed on August 20, 2013, following the announcement of the closure of Toontown Online.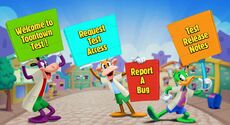 Trivia
An archive of the test server's website is available by clicking here.
All test accounts had permanent membership status, allowing users to test any feature as much as they wanted to.
A bug existed on the test server's website where anyone could sign up and would be automatically accepted. If a non-subscriber did this, they would not have membership status on their test account. This was fixed in March 2010.
While rare, not all updates from the test server were released to Toontown.
The test server's website featured an orange version of the open server's background image. Additionally, it featured some of the Loony Labs scientists on the home page.
At the time of the test server's closure on August 20, 2013, the last update was on January 10, 2012 - a period of 84 months and 7 days.[1]This was the longest period since the test server released where it featured no updates.
References
Community content is available under
CC-BY-SA
unless otherwise noted.