"
Which face would you like to defeat you?
"

–Two-Face
A Two-Face is the sixth cog on the corporate ladder of Sellbots. Its levels range from six to ten.
Locations
Starting Phrases
"Two heads are better than one."
"It takes two to tango, you wanna tango?"
"Are you ready to face your doom?"
"Which face would you like to defeat you?"
"Prepare to face your worst nightmare."
"Face it, I'm better than you."
"I'm 'two' much for you."
"You don't know who you're facing."
"It's time to face-off!"
"You're in for two times the trouble."
"You better face up to defeat."
Cog moves
Cog suit promotion
Merits

Levels:
6
7
8
9
10
Merits required:
260
340
420
500
2,100
Trading card
Cog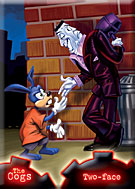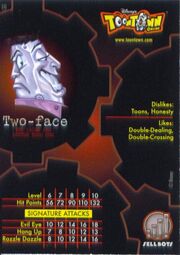 Two Faces Are Better Than One
Dislikes: Toons, Honesty
Likes: Double-Dealing, Double-Crossing
Trivia
Two-Face, Double Talker, and The Mingler have the same head mesh.
In the trading card, Red Tape is not a move noted on the card, which is the exact opposite of the Big Wig and The Big Cheese which, on the card, have moves that do not exist in Toontown itself.
The Two-Face's weakness is Hypno Goggles because they have twice as many eyes to hypnotize.
On the trading card, Two-Face's skin is silver. However, it is beige in-game.
The trading card shows Two-Face offering his hand to a Toon -- while holding a mallet behind his back.
A Two-Face is one of the four cogs that have two faces. The others are Double Talker, Chief Executive Officer, and the Vice President.
Name of origin
"Two-Face" is a term used for a person who has multiple personalities. (Example: They say they like that suit, but they really hate it.) In business terms, it is when someone makes a deal, but then goes back on their word, and will not accept that deal.
In other languages
| Language | Name |
| --- | --- |
| French | Biface |
| Spanish | Dos caras[1] |
| German | Falschgesicht[2] |
| Brazilian Portuguese | Duas Caras [3] |
| Japanese | アイソマン [4] |
Gallery
References