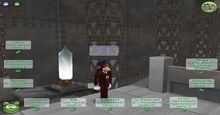 About me
Welcome to my profile page, I'm a really nice guy when you get to know me. I'm also Creative and Humorous. I say that I'm humorous because I'll make jokes while battling cogs in Toontown. I don't really believe in those placebos that make lure work because it really doesn't. Saying "Glue!" , "Here Boy!" , "Hypno!" or "Come and get it!" don't really make lure work more often because saying phases like that or any phase at all do not modify the game's code in any way. Yeah I get called stubborn but whatever right? I mean I'm not hurting anyone or want to be mean I just want people to stop believing in placebos because all they do is boost your confidence in the lure gag hitting. When the Lure misses I say "Copper Cogs?" because you know the cogs are robots and copper is not magnetic or is it? I don't usually socialize in Toontown or any Online game at all but my best friends are Crazy Spunky Funnygoober, she is a short pink rabbit who enjoys hanging out with me and gets sad whenever I don't log on for a while, and Crazy, he is a tall dark green rabbit who enjoys when I help him out. I introduced Crazy Spunky Funnygoober to play Fun Run and she enjoys it.I own 4 toons now, Fireball, Spunky, Crazy and Clover Smartytoon. I made them because one of my friends said to, I was gonna delete them but it's kinda fun looking like my friends' toons. Crazy is also good friend, I'll help him out too. Before Crazy Spunky Funnygoober introduced me to him, I thought he was a little nuts but then I found out he was a pretty fun person. I finally got the guts to get rid of Funky Monkey and Tornado so they won't be bothering me anymore, their friendship was only good for a while but then they began to use me just because I was so strong(Funky Monkey) and I usually got into Nutty River(Tornado). But my friendship with Crazy Spunky Funnygoober is strong so we might be friends until we both quit toontown for good. Crazy Spunky FunnyGoober deleted Funky Monkey too, because she can only take so much out of him. But she ran into him 3 days later(about a day after I removed him)  but I can still log on as Prof. Fireball Smartytoon because I'm just golfing and gardening with him anyway and I'm almost never in Nutty River anymore.
My Toons
Prof. Fireball Smartytoon
120
Prof. Fireball Smartytoon
Lime Green Dog

Gags
Toon-Up:
High Dive
Trap:
Railroad
Lure:
Presentation
Sound:
Opera Singer
Throw:
Wedding Cake
Squirt:
Geyser
Drop:
N/A
Fishing information
Fishing rod:
Gold
Estate information
Doodle Name:
Pixel
Shovel:
Gold Shovel
Watering Can:
Huge Watering can
Miscellaneous information
Kart type:
Standard
Cog suits

Sellbot:
Mr. Hollywood Level 50
Cashbot:
Robber Baron Level 45
Lawbot:
Ambulance Chaser Level 4
Bossbot:
Flunky Level 3
57
Prof. Clover Smartytoon
Lime Green Dog

Gags
Toon-Up:
Mega Phone
Trap:
N/A
Lure:
N/A
Sound:
Whistle
Throw:
Whole Fruit Pie
Squirt:
Seltzer Bottle
Drop:
Sandbag
Fishing information
Fishing rod:
Twig
Estate information
Doodle Name:
Napoleon
Shovel:
Tin
Watering Can:
Small
Miscellaneous information
Kart type:
Standard
Cog suits

Sellbot:
Cold Caller Level 1
Cashbot:
N/A
Lawbot:
N/A
Bossbot:
N/A
Current Cog Disguises
Sellbot: Mr. Hollywood Level 50
Cashbot: Robber Baron Level 45
Lawbot: Ambulance Chaser Level 4
Bossbot: Flunky Level 3
Current ToonTasks
Defeat 400 cogs
Defeat 300 cogs
Defeat 100 cogs
Defeat 100 cogs
My favorite pages
Number Cruncher
Cashbot Dollar Mint
CFO
My favorite quotes
"Quid Pro Quo" - Latin Proverb
User Templates
Other
Currently Working on: Collecting Jellybeans
Currently Training: Nothing, All Gags maxed(Clyde: Throw and Squirt, Clover: Throw and Squirt)
Playground mostly located in: Donald's Dreamland(Clyde: Daisy Gardens, Clover: Minnie's Melodyland)
District mostly located in: Nutty River(Clover: Giggly Hills)
Time Usually online: Sun - Sat (3 PM - 9 PM)
Fish Species Collected: 59/70(Clyde: 7/70, Clover: 14/70)
Racing Trophies Won: 4/33(Clyde: 0/33, Clover: 0/33)
Flower Species Collected: 35/40(Clyde: 0/40, Clover: 0/40)
Glitches done: 5 of ???
Favorite Cog: Number Cruncher
Times went sad: 23(Clover: 0)
Cogs Destroyed: 150000 (estimation)(Clyde: 261, Clover: 356)
Buildings Defeated: 416(Clyde: 1, Clover: 2)
Friends: 25/50(Clyde: 2/50, Clover: 4/50)
Doodles owned: 3(Names: Halogen(Sold), Pixel(Current), Napoleon(Clover))
Parties hosted: 3
Public Parties went to: 11
Private Party invites: 8 went to: 1 declined: 2 Missed: 6
Toons ignored: 234
Errors encountered: 58
Jellybeans spent: 500000(total) (estimation)
Friends Deleted: 92
Videos made: 20
Sceenshots took: 455
Races done: 20
Golfing Matches Played: 58
Top star earned: Rotating Bronze
Times ran from battle: 42(Clover: 8)
Times ran over by train in CBHQ: 8
Factories done: 600 ended early: 12
Toon Rangers met: 0
Toon Troops met: 0
Wikis Studied: 35
Community content is available under
CC-BY-SA
unless otherwise noted.