About Me
| | |
| --- | --- |
| | The Epic Toon is the Top Toon of the Month! Congratulations! Keep editing and keep up the good work! |
Hello! I am Epic Toon! I like to edit pages and help other toons! I have 47 badges so far as you can see. One of my toons is in the photo next to this text! I have recently lost my membership. Find me on Toontown if you can!
"
Calling me boring won't make you epic.
"

–The Epic Toon
More User Information
Weekly Poll!
Favorite Pages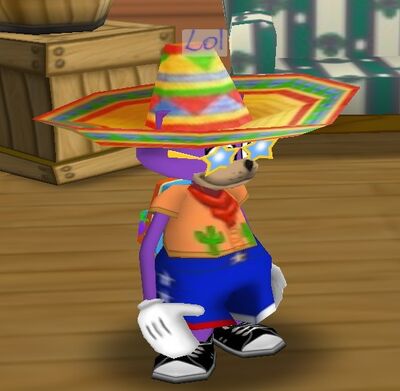 A Day on the Life of Me on Toontown
Usually when I'm on Toontown, I make game shows. Toontown Wipeout, 101 Ways to Leave a Gameshow, or just a normal Game Show. When I am not a member, I go to bean fests to save up untilI have jellybeans, or host Game Shows in Toon Valley. When I am a member on Toontown, I am constantly fighting cogs, and finishing my ToonTasks. I ALWAYS go on Toontown with my accessories! ( That is, if I am a member! ).
When Did I Join Toontown?
I Joined Toontown in 2009, which means I have played for 3 years. I did go one year without going on Toontown. Trust me, it wasn't the same. I did find other ways to entertain myself. Like I have puzzle cubes. I also read and had school memories during the year. After a whole year, I was back on
Deleted Main Toons
When I first played in 2009, I had a starter dog toon named Doctor Murky. He did not have Speed Chat Plus. I deleted him. Then I made a dog called Professor, I don't remember. Let's just call him Professor. I then got Speedchat Plus for him. He was better than I expected! I got him up to 52 laff and Level 6 throw. Then I deleted him and made Lol, my best purple cat. He is 54 laff. He currently has a 120 jellybean pouch. I do not intend or plan on deleting him.
Bans
I have been banned before. My first ban was really not amusing to me. Toontown said in the email I might have been mean to Toons or something. But I never did such a thing. I tried to remember my Parent Password, but I had to wait. The rest of the bans were for glitches. I do glitches today still and don't get banned more thankfully. I have been almost 2 years without being banned for 2010 and currently right now in 2011.
Toontown Contest Entries
I have never entered a contest like the Ode To Jellybeans for a prize to be sent to me by mail. I have tried competing in contests to defeat cogs. And I never won. Oh well! It's not a pretty big deal to me.
Special Events I have participated in constantly
When the Admin starts the count down, I go with the other toons and evacuate to Acorn Acres under the Under Construction Building. It is fun. Under there, us toons have fun. As the countdown almost ends, we gather hope to survive the countdown. Usually I survive and so do all the others. Sometimes I get logged out with all the others. I got so excited the next day after the update to see what was new.
Other Wikis I contribute to
Here are the list of all the wikis I contribute to.
Wipeout Wiki
Snoopy Vs. The Red Baron Wiki
The Smurfs Wiki
The Outsiders Wiki
The Hunger Games Wiki
Angry Birds Wiki
Friends On this Wiki
Special Users
the star signals a best friend!
Users
Doodles
My Doodle is named Nimbus. He comes from Toontown Central, but hes still an awesome doodle. He rarely does a trick even after hes tired. He is occasionally hungry. He is always lonely when I'm gone for long. He has a doodle friend named Leafy who lives with Nimbus. He is very rarely sad.
Toontasks
This is my list of Toontasks. It changes everytime I complete, return and get a new Toontask.
Defeat 45 Bossbots
Defeat 45 Lawbots ( In The Brrrgh )
Defeat a Factory Foreman
Online Pictures
Here are some pictures of Toontown that I have found online that make me laugh or amaze me.
My Drawings of Angry Birds
The Angry Birds and the Pigs!