How I describe myself.
I describe myself as a rule-abiding chat moderator. I read the wiki rules, before making any decisions. I like helping others in the wiki, if ever they do something wrong, I try in my kindest way possible to show them the light outside of the tunnel(metaphor). I also like playing Toontown, I have a test account and a live account.
Ask me if you need any help, I've been here longer than most people on the wiki today. :)
About me
I'm (Obviously) a male :P. And my name is William. Ironically, my nickname and what my friends call me is Wilbur. So I went with it... Yeah... Read Wilbur's Life to find out more. I also like editing in an organized way and I usually edit the trivias with facts are popular beliefs and I sometimes just fix gramatical errors(very rarely). I am also one of the oldest editors here, editing as an anon before.
Wilbur's Life
| | |
| --- | --- |
| Veteran | This user played Toontown for many years now. |
| | |
| --- | --- |
| 1,026 | WilburStorm currently has 1,026 edits! |
| | |
| --- | --- |
| Good | This user has good internet connection. |
| | |
| --- | --- |
| | This user is a a fan of MLP:FiM. → |
112
Wilbur
Red Dog

Gags
Toon-Up:
Toon-upless
Trap:
Trapdoor
Lure:
Hypno Goggles
Sound:
Opera Singer
Throw:
Wedding Cake
Squirt:
Geyser
Drop:
Safe
Fishing information
Fishing rod:
Silver
Estate information
Doodle Name:
Zephyr
Shovel:
Steel
Watering Can:
Medium
Miscellaneous information
Kart type:
Cruiser
Cog suits

Sellbot:
Mr. Hollywood Level 49
Cashbot:
Money Bags Level 8
Lawbot:
Double Talker Level 5
Bossbot:
Flunky Level 4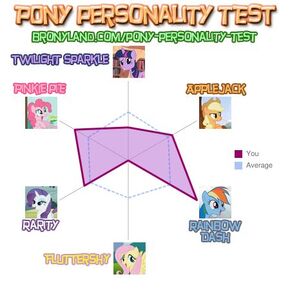 "
I'm gonna pop some tags, only got 20 jellybeans in my pocket.
"

–Wilbur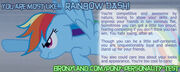 Toon-upless
Trap

Lure

Sound

Throw

Squirt

Drop
It all started with Boredom. Me and my brother were really bored after my mom bought us a new laptop.I remembered playing Toontown when I was eight. I used a toon (With the same name).I played with my brother and I finished all TTC's toontasks,ALL IN ONE DAY! I've moved on to Donald's Dock then I teleported to my friend in Daisy's Garden then she logged out after I teleported to her. I went to a path back to Donald's Dock then found a bunch of people that were gonna do a building. I joined them, we all became great friends. But my best friend of all those toons was Sky Flyer. We all got stars on our heads.Moving on to Daisy's Gardens I met someone who is also on the wiki. JELLYROLL ZILLERWIG! From then I haven't seen him. But I've met also Rusty ThunderZap. Hey, what can I say, I've met lots of toons on the wiki. I am a tall dog with an orange head, a green body and red feet. I normally wear the vest you get at MML but a red and yellow vest and shorts that have stripes on the side they are red,black and yellow shorts. I am a 54 laffer and is almost finished with my trap track. Moving on to Minnie's Melodyland I have chosen the trap gag track. I have been going on VP runs during my free time. Anyway in MML I just met some of my best friends. I also just got my new banana peel. Just so you know my toon birthday is on Febuarary 13 so please send me a gift if you are my friend. In the Brrrgh, I have met Man for the Job, Bonkers. I am also part of Super Toons, a clan made by Bonkers. I have met some of my best friends at the Brrrgh. I met my girlfriend, Ladybug(who is 136 laff) and some of my best friends such as Dippy Lollipop. And I have done Lil Oldman's infamous 20 4+ Story Cog Buildings task. I have also recently became a Brony. In 2012, I left the wiki, but I came back on June 1, 2013. I started editing again to become active and to wake my friends up, saying: "Hey guys! I'm back!".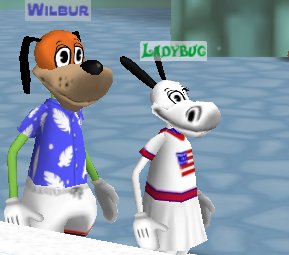 TT Friends
Super ElectroNugget(Chrisgaff )
duckle(GamerPerson )
evina(Theevina )
Peppy Thundersocks(FlyingSquirrel192 )
Yippie Crinklepretzel(ToontasticToon212 )
Princess Daffodil (Oshawott497 )
Nights(Bermuda )
Lily Butterfly (Flower1470 )
Penny (Loving77 )
Likes
K-Pop (It's Korean Pop FYI :P)
Toontown
Cog busting
Doing Toontasks (I find them fun)
Seeing my friends online
Toontasks
Defeat 8 4+ Cog Buildings in Donald's Dreamland
Defeat 25 Number Chrunchers
Defeat 75 Cogs in the Brrrgh
Defeat 70 cogs in Donald's Dreamland
Plans
1. Join the wiki
2.Get 100 laff points Done on 6/24/11
3.Meet and Friend Bonkers
4.Become a Name Dropper in My Sellbot Suit Track
5.Get all my six gag tracks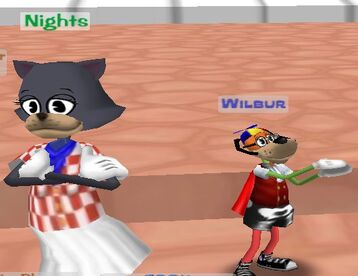 6.Make two toons that I never use :P
7. Meet everyone on the wiki on Toontown Online
8. Finish Lil Oldman's tasks
9. Do my first CFO! Done on 5/15/11
10. Become a Top Toon on the wiki. Top Toon of September 2011, Oh yeah!
11. Max sound Done on 5/15/11
12. Add Bermuda on TT. Done on 2/15/12
13. Max Sell.
14. Become Top Toon for a second time!
15. Reach #15 on the leaderboard.
16.Get 500 edits.
17. Become rollback again!
18. Become active on the wiki again!
19. Become very well-respected on the wiki.
20. Become an admin.
My favorite pages
Add links to your favorite pages on the wiki here!
Favorite page #2
Favorite page #3
Community content is available under
CC-BY-SA
unless otherwise noted.