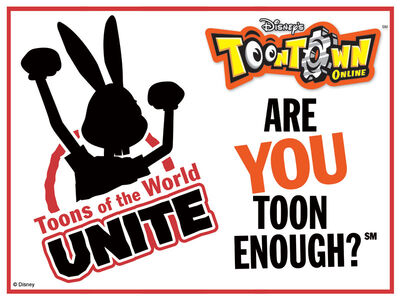 Hey toons! Well, the end of the 2011 year is coming up! And I just wanted to ask a few... or several questions:
When you first joined Toontown Wiki, how did it feel? Were you an anonymous contributor before signing up for an account? Were you excited or nervous to make your first edit on this wiki?
What was the very first page you edited/created?
How long will you be committed to the Toontown Wiki? (Meaning, how long will you edit until retirement/leaving the wiki)
What were your goals for 2011? Did you achieve some of them?
What are your goals for 2012?
What do you expect to see more from the wiki? What would you like to see?
Did you plan on becoming an admin/rollback/other type of user right? If so, why?
Any other questions not listed here that you'd like to answer, please type away! Just make it appropriate....
Now for some off topic wiki questions (about Toontown):
What are your goals for Toontown? Do you plan to max your gags?
Not long ago the Field offices landed in Toontown back in February. How was it? Did you find it fun to defeat the building, or was it a waste of time?
Recently, the three grand prize winning accessories from the "Design a Toon Accessory" contest was announced. The winners were: Bird Hat by Brianna, Alien Eyes by Alexandra, and Cog Pack by Savanah. Which accessory is your favorite? If you were to enter the contest, what would your accessory be?
What do you hope to see for Toontown next year? *cough* Cog Nation? New gags (gag track)? More doodles? Doodles on unicycles? Evil doodles? Sheesh, save it for the fanon wiki.
Any other questions not listed here that you'd like to answer, please type away! Again, just make it appropriate....
Now, you may wondering, "Why are the comments blocked?!" or "Hey fool, you forgot to check for commenting." or "Hmmm... something is missing at the bottom where I must type something, but I just can't figure it out!"
Well, stop guessing or whatever... The comments are blocked because I want to hear (well see) your opinions and answers on this forum page: Forum: 2011 Year - 2012 Commitments. The forum pages seem lonely. Now, we shall make it un-lonely!
Community content is available under
CC-BY-SA
unless otherwise noted.