This past year sure has been a Toontastic one with wacky Toon Parties, kooky codes, crazy contests, chuckling challenges, oodles of wacky holidays, and endless Cog shenanigans
(why oh why are they always trying to spoil our Toon fun?) But this is Toontown, which means that the fun's not done – not by a long shot!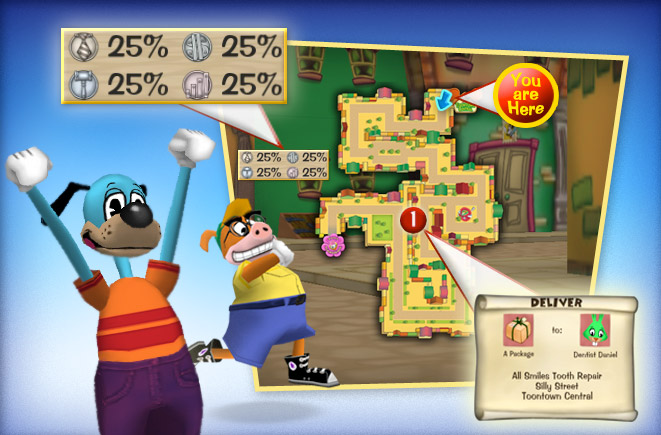 The Toon Council has a TON of Toon-errific fun planned for you this coming Toon Year, and the first is all-new Street M.A.P.S. (aka "Marvelously Animated Pathfinding System")!
To open and close the M.A.P.S. of the Street you're on, just press the "Alt" key on your keyboard.
The blue arrow tracks your Toon on the Map.
The numbers in red target any ToonTasks you need to finish on that Street, showing you exactly where you need to go.

You can also open M.A.P.S. by clicking the little Map just above your Shticker Book – just remember to be in a Street!
Need to track down a certain type of Cog? M.A.P.S. also show you the percentage of each Cog type lurking on your Street. You'll be finding and busting those Cogs to pieces in no time thanks to the new Street M.A.P.S.!
Stay Tooned for more Toontastic news right here!
Community content is available under
CC-BY-SA
unless otherwise noted.