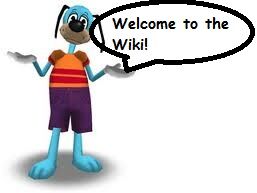 Welcome!
Hi Dragonian King, welcome to Toontown Wiki! Thanks for your edit to the User:Dragonian King page. We hope you will enjoy our wiki and stay with us! We have several Projects in progress, so I hope you can get involved!
You can review the Wiki Rules before editing so you understand our policies! The main rule is to have fun editing!
You can also check out what's currently happening on this wiki on the Community Portal!
If you need help with anything, you can leave me a message on my talk page!
Have fun editing, Dragonian King! -- Bermuda (Talk) 23:56, August 29, 2011
Top Toon Nominee
Hey there! You have been nominated for Top Toon of October 2011! Read more about it!
• Bermuda • Contact Me! • 04:54, September 1, 2011 (UTC)
Oh my gosh!
Wow I never would have guessed. When you seid that I was like 0_0 than I was like :O and than I was like :/ and i'm still 0_0. But LOOOL!!! I guess I wasn't paying much attention. :)
Do you remember when we frist met on tt? Becuse I do lol.
Meeting On Toontown
Wanna meet on Toontown? If so meet me on Rocco.
District: Funnyfield.
Location: Donald's Dock
Time to meet up
Hey dragon, wanna meet up on toontown today? I'm super electro nugget and i'm 104 laff. Lets meet here:
District: Zany acres
Playground: Toontown central
Hope we can meet up!
Chrisgaff 19:18, February 18, 2012 (UTC)
LOL glitch :P
Look this happen with my other friend.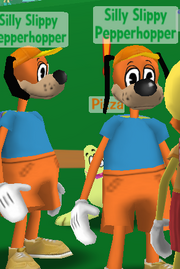 I'm cuter than a button. Loving77 22:13, February 20, 2012 (UTC)
LOOOOL!!!
Lol!
I'm cuter than a button. Loving77 22:32, February 20, 2012 (UTC)
:P
Whatever lol.
I'm cuter than a button. Loving77 14:31, February 22, 2012 (UTC)
Great job
Nice with the level 7 gags King
Whistle
I helped him get most of the sound points when he had bike horn. Good job Slippy
Name
Did you name your other toon, Fat Pancake picklechomp, after Fat Peanut Picklepop, Coach Z's recruit
WE MUST MEET SOON.
The Strom has struck Toontown, advise you find shelter from the blinding lightning of Wilbur's awesomeness! 08:33, March 6, 2012 (UTC)
Your Magic Lightsaber
HERE'S YOUR MAGIC LIGHTSABER . --Osha 03:03, March 8, 2012 (UTC)
Dont miss the bean fest tommorow Lavathemouse 02:12, March 10, 2012 (UTC)
Images
The way you edited the images of your toons to only include, well, your toons, made me think they were made by Toontown themselves. :P I was wondering, if you had some free time, maybe you can work on these images and make the orange transparent. These images are meant to go on the main page; the main page is lacking a navigation.
If you're willing to do it, it would be a great pleasure! If you can't, well that's all right. Also, if you do manage to complete it, you can just update the old picture to the new one.
Thanks! Bermuda • Talk • 01:01,5/17/2012
Hey, I have never met you but can we meet on TT? maybe Sat' or Sunday? klintrin10 EPIC! 19:34, May 18, 2012 (UTC)
Getting involved
Hi. Recently we have received an inquiry for partnership. Please feel free to get involve and add in your opinion about the partnership, and if Toontown Wiki is suitable for the partnership. Thanks for listening; we hope you can get involved.
Link: Forum:Partnership with ToonTask
Remember to keep comments civil. Comments that violate the rules will be removed, and you may earn a block.
This message was sent to the most recent list of active users and does not necessarily target you.
 Bermuda • Talk • 06:24,6/1/2012
reply to terrible news
Aww i never had the chance to friend one of his toonsPizzaboy66 15:59, July 18, 2012 (UTC)
Do you have?
Do you have Club Penguin?
WHY did you say my post about THE REAL TOONTOWN PATITION should be deleted... It has every right not to.. A there is a petition your soporting that isnt the real won it has 1500 less people and made 6 hours after the real one... I also gave clear reasoning but NO you thought it wasnt toontown related... Well I can see you care more about the lesser patition then toontown... So I guess when it shuts down cause you just wouldnt sign BOTH patitions and deleted mine which told people then enjoy having a petiton with 1500 less people and only 5 comments no enjoy!
Why did you ask for my page about the REAL toontown petition to be deleted it had every right to stay it was a better potisaion then the one your admins are promoting ( Most likely toon task members) I explained why it was better but here it is agian A it has now way over 1500 more people signing it B was made 6 hours before so it was first offical C has about 500 comments the other has like 5 ... Yeah and you say you "LOVE" TOONTOWN but are framing me for not puting something related to toontown cause you want the other to work.. Well you site petition isnt the real one and I advise you sign this one and yours. I signed both... https://www.change.org/petitions/bob-iger-miheal-eisner-disney-keep-toontown-open-facing-the-real-cogs —Preceding unsigned comment added by Fateddiebear (talk • contribs) .
Please sign your posts with ~~~~!
Please calm down. The petition on the main page of this wiki is the one supported by Toontask. Therefore that one stays.
RE: LLLLLLLILY
Yes, I did! Great work :D
~Lily ♥ 20:05, September 22, 2013 (UTC)
Reminder
I already talked to you about this elsewhere but for the sake of formalities I must put something here.
In your recent edit summary you mentioned a private server. As per our Wiki Rules:
"Anything pertaining to illegal services, such as private or unofficial servers not hosted by The Walt Disney Company, are banned from the wiki. This includes creating a blog post, commenting, talk pages, videos, images, articles, linking to, mentioning, and so forth. Toontown Wiki is not a host for illegal products."
So yeah. Don't do it again.
~Lily ♥ 23:18, June 16, 2014 (UTC)
Lily is right, you got a mistake somehow try not to do it again.
PolyphonyDigital326 (talk) 08:17, June 17, 2014 (UTC)
RE: Hey
Hi Silly! Seeing that you messaged me made me so happy - it's been FOREVER.
I just wanted to write a quick message to tell you that I'm not ignoring you. Right now I am SWAMPED with school/work and barely have time to feed myself. I know you wrote me another message on the other wiki before this - we'll catch up soon, I promise!!
~Flower1470 ♥ 22:27, 28 February 2021 (UTC)