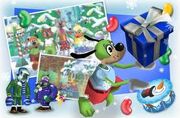 Winter Holiday is a time in Toontown between December 14 and January 4. Just like Halloween, there are special things happening at this time. The streets are decorated, winter parties, the special holiday Cattlelog items, and caroling for a snowman head!
Winter Parties
Main Article: Winter parties
Winter Parties first introduced flappy and inflatable cogs. Also in the catching game for parties, the fruit changes to presents.
Special Holiday Cattlelog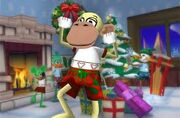 Just like during other holidays, Clarabelle's Cattlelog has special items pertaining to Winter Holiday. There are clothing, furniture, and statues for your garden. Once Winter Holiday is over, you can still use these items, but you can't buy them until next Winter Holiday, unless it goes to the backorder.
Caroling
Main Article: Snowman Head
Caroling is an activity toons can do during this time to get a snowman head. In order to obtain a snowman head, visit all of the following buildings, in any order:
In each building, say one of the caroling SpeedChat phrases, and you will recieve 100 jellybeans. In the last building, your Toon's head will turn into a snowman head.
Gallery