"
Want to meet? I say yes, anytime.
"

–Yesman
The Yesman is the third cog on the Bossbot corporate ladder. Their levels range from three to seven.
Locations
Starting Battle Phrases
"You need some positive enforcement."
"I haven't been wrong yet."
"Want to meet? I say yes, anytime."
"I won't take no for an answer."
"I'll be sure to end this on a positive note."
"I'm positive you're not going to like this."
"I'm confirming our meeting time."
"I don't know the meaning of no."
Cog moves
Cog suit promotion
Trading card
Cog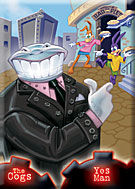 Oh Say Can You Si
Dislikes: Toons, Thinking for Himself
Likes: Nodding, Pleasing the Boss
Trivia
A Yesman looks like a small Mr. Hollywood or a fit Glad Hander. A Toontown employee once answered in a question that this is because the cogs liked to save parts. [Citation Needed »]
The trading card shows the Yesman giving a thumb up as two rabbit Toons prepare to fling pies at him.
It is the only Bossbot with a group attack, that being Synergy.
Ironically, when a Yesman does not want to battle, it says "Yesman says NO" even though it says it does not know the meaning of "no" in a quote.
Its gag weakness is a Fruit Pie Slice because the messy filling gets stuck on its teeth.
Yesmen have very weak attacks compared to other level 7 cogs. Their strongest attack at level 7 takes only 8 laff points.
Yesmen have the same promotions as Two-Faces, Number Crunchers and Ambulance Chasers.
In the trading card, the Yesman in the photo is very much fatter than in Toontown Online, looking more like a Glad Hander than a Yesman.
There is a removed cog move called "Cigar Smoke" that was for the Yesman. The move animation is the cog smoking a cigar and blowing the smoke into the toon's face.
Yesmen share the same head mesh as the Glad Hander, Mr. Hollywood and the Robber Baron.
In game, "Yesman" is spelled out as one word, but on the trading card it is spelled out as "Yes Man" in two words.
Name of Origin
A Yes-man is someone who agrees with anything with his or her supervisor, superior, etc., despite any attitude they express. [1]
Language
Name
French
Beniouioui[2]
Spanish
Pelota[3] (Guide)

Sonriente (In-Game)

German
Jasager[4]
Brazilian Portuguese
Vaquinha de Presépio
Japanese
イエスマン[5][6]
Gallery
References