Not to be confused with Sleepy and the House of Zzzzzs.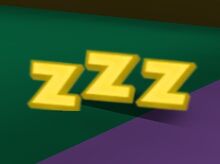 The ZZZ is a type of treasure that can be found in the Donald's Dreamland Playground and the CFO battle.
In the CFO battle, ZZZs are released by large orange or red helmet goons when they are disabled.
During ValenToon's Day, the laff points received are doubled, which means that you would receive 24 laff points.
Laff Points Healed
Donald's Dreamland - 12
CFO Battle - 12
Valentoon's Day - 24
Locations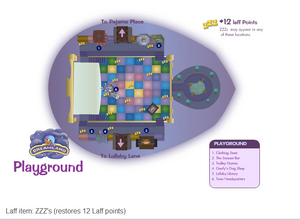 A total of 17 ZZZs can be collected.
Above Ground
Ground
(Top to bottom; left to right)
In front of Pajama Place tunnel
In front of the Pet Shop
To the left of the Party Gate (Party Gate not shown on map; Party Gate left of the fishing pond entrance)
In front of the Party Gate
Near the Toon HQ
Directly in the middle of the playground
Near the Toon HQ (facing Lullaby Lane)
Also in the middle of the playground (nearest to Lullaby Lane)
To the right of the fishing pond entrance
Near the stairs (near the pillow)
Next to the Donald Jack-in-the-box.
Between the wall and the stairs (nearest to the pond)
Community content is available under
CC-BY-SA
unless otherwise noted.